FAQs
Frequently Asked Questions
Why does Wellbone cost less?
Wellbone's direct sourcing model and self-handled logistics allows us to optimize costs, reduce waste, and lower prices. These cost savings are then passed on to the customer, making us a more affordable option compared to our competition.
How are the steaks packaged?
All of our meat products are hand-cut and aged for 7-28 days for extra flavor & tenderness. They are individually sealed and packed, then flash-frozen to preserve flavor, vitamins, and minerals.
How many people can I feed with 1 plan?
Our medium and large plans offer incredible value for customers who are looking to feed their families or groups of people.
With our medium plan, customers can serve 34 meals at a price per meal of just $4.41. That's an average cost of just over $0.14 per serving, making it an affordable and convenient option for those who are looking to feed a moderate number of people.
For those who need to feed even more people, our large plan offers even greater value.
With 62 meals available at a price per meal of $4.03, customers can feed their entire family or group of friends for an average cost of just over $0.06 per serving. This represents incredible savings compared to the cost of eating out, making it an excellent choice for those who are looking to save money while still feeding their loved ones high-quality meals.
What's the Price Match Guarantee?
If you find a lower cost per pound than the meat subscription plan size we offer from an online delivery service in the United States, we will not only match that price but also provide an additional $20 discount.
How can I be eligible for the Price Match Guarantee?
To be eligible for the Price Match Guarantee, please ensure that the following criteria are met:
The compared cost per pound must be from an online delivery service based in the United States. We cannot match prices from physical grocery stores or other non-online retailers.
The compared subscription plan size must be identical to the one offered by Wellbone, including the same quantity of meat delivered and the same frequency of delivery.
The compared cost per pound must be publicly advertised and verifiable at the time of the price match request. We reserve the right to confirm the availability and accuracy of the compared price.
The price match request must be made prior to placing an order with Wellbone. We cannot retroactively apply the Price Match Guarantee to previous orders.
How can I request a price match?
Contact our

 

customer support team by email

 

and provide the following information:

Your full name and contact details.
The specific subscription plan size you wish to purchase from Wellbone.
The name of the online delivery service and the URL where the lower cost per pound is advertised.
The cost per pound of the subscription plan on the competitor's website.

Our customer support team will review your request and verify the information provided.
Once your request is approved, we will provide you with a unique discount code that can be applied during the checkout process. The discount will reflect the matched cost per pound, plus an additional $20 off.
Please note the following conditions and limitations of our Price Match Guarantee:
The Price Match Guarantee applies only to the meat subscription plans offered by Wellbone and does not extend to any additional fees, taxes, shipping charges, or other associated costs.
The Price Match Guarantee cannot be combined with any other promotional offers, discounts, or coupons.
Wellbone reserves the right to modify or cancel the Price Match Guarantee policy at any time without prior notice.
How are the cattle raised?
We raise our cattle on pastures by farmers conscious about their product, the environment and the supply chain around the meat they produce. It is our strong commitment to create a supply chain concerned with animal welfare, supporting independent farmers, and responsibly managing the resources we were given.
Do I receive my orders in an insulated bag or a box?
If you live in Souther California, your meat plan will be delivered by our refrigerated van, inside an insulated bag. These bags allow us to reduce costs and waste, since no dry ice is necessary to keep your cuts frozen. If you live elsewhere in the US, your orders will be sipped inside a box with dry ice.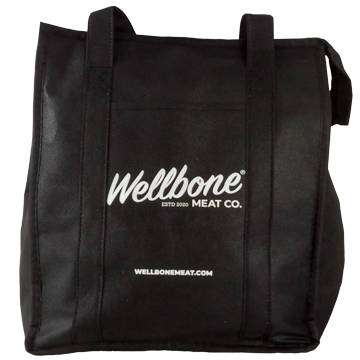 Is the insulated

 

bag reusable?
You can choose to switch the insulated bag for a new one with every delivery, or keep it. If you decide to keep it, you can reuse it for different purposes.
Does the new bag have the same product count as the boxes?
Yes, the bag has the same product count as our previous boxes. Currently there are medium and large sizes.
Do I have to pay for shipping?
If you live in Southern California, we'll personally deliver your order for free. Elsewhere, corresponding shipping fees apply, depending on transit days and carrier rates.
I live in Southern California. When will my order arrive?
If you live in Southern California, we personally deliver your orders in our very own temperature-controlled van. These are currently our delivery days:
Can I cancel anytime?
Yes, you can cancel, skip or pause your subscription anytime at no extra cost as long as you do it 3 days in advance (3 days before your next billing date).
You can also move ahead or move forward your billing date as long as you do it 3 days in advance.
These changes to your subscription can be made through our Customer Portal.
Can I connect with you on social media?
Yes. You can find us on Instagram and Facebook.
Who can I contact if I have additional questions?
You can get in touch with Wellbone Customer Care via email, chat, phone and social media.